Where to hike in Ardeche?
The Southern Ardeche is the paradise of the hikers. The gorges of the Ardeche in particular, with a canyon 24 kilometers long, bordered by limestone cliffs. The bed of the river, dug over the millennia leaves us in heritance a national park with grandiose landscapes. Your hike in the Ardeche is an initiatory journey in communion with the wild nature. Let be guided …
There are plenty of ways to explore the Ardèche gorges, canoeing, kayaking, climbing and via-ferrata or canyoning.
The other way to explore this natural wonder is to walk along the kilometers of marked trails and trails in the heart of the Gorges or on the heights of the hills overlooking the Ardeche River.
Walks in the Ardèche throats
Around the campsite the Sun, you will find the departure of several trails of walk that criss-cross the canyon that allow you to immerse yourself in the heart of this wild nature from different angles. There are 9 different level trails in the Gorges de l'Ardèche.
The main hiking trail in Ardèche
The trail along the Gorges passes at Vallon Pont d'Arc and rallying Saint Martin d'Ardèche, 24 kilometers away. It is composed of 2 equal sections in distance:
Upstream: from the bridge of Tiourre, just after the Pont d'Arc, arrival at the bivouac de Gournier
Downstream: from the Bivouac de Gournier, arrival at Saint Martin d'Ardèche on the beach of Sauze
The trail is marked with 2 yellow and white bands, it passes sometimes on the heights with panoramic view on the landscapes ardéchois, sometimes at the edge of the river where you can make a stop swimming!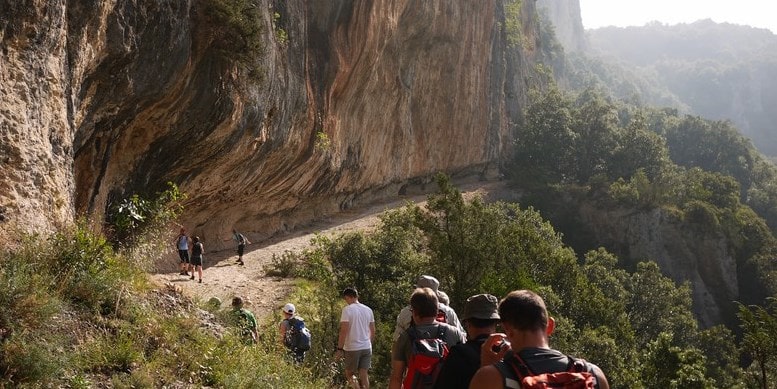 In some places you will find technical passages: steep paths, passages with handrail, fording of the river and even the crossing of chimney! Find out about the itinerary by obtaining a topo-guide (8,50 €), available in the tourist offices of the Pont d'Arc Ardèche, Vallon Pont d'Arc, Ruoms or Vogüé
You can start the trail at various points. If you do it in its entirety, it will take 2 days with a night in bivouac. Plan to sleep and have a picnic.
Before leaving, remember to inquire about the weather and the water level
 04 75 88 00 41
Other sites of interest in Ardeche
The Gorges de l'Ardèche and the Cavern of the Pont d'Arc are the major destinations of the region, but do not miss the other equally remarkable tourist sites, often less well known.
Vogüé a remarkable village and its castle
Rochecolombe and its waterfall
Lagorce and its panoramic view of the Ibie river
The olive groves of Bessas
The Vauclusian resurgence of Grospierres
The hanging gardens of Labeaume,
The dolmens of Saint-Alban-Auriolles
Chauzon and the Cirque de Gens …
To discover the Ardèche and its treasures, only one stay will not be enough!
Book your pitch or mobile home at camping Le Sun in Sampzon